Maxi CAB & Mini BUS Hotline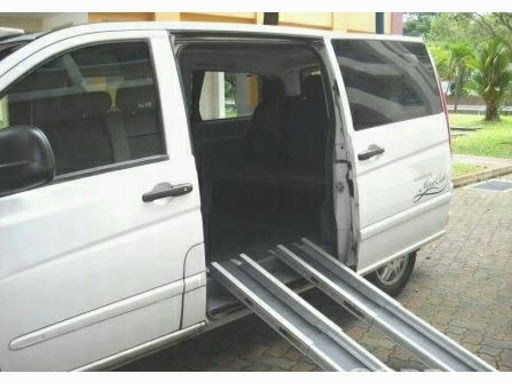 MaxiCABooking SG, 24hrs @ 9895 2595
MaxiCABooking SG provides both 7 seater maxi cab and our 9 seater minibus wheelchair service that is specially catered to clients with physical disabilities. This type of transport service is what you'll need when you plan to travel with a wheelchair-bound person. Our wheelchair-accessible maxi cab and minibus could fit up to 5 passengers and 8 passengers respectively with the option of side load or back load depending on the customer's preference. Both type of vehicles also comes with individual space for the wheelchair-bound person.
The Maxi Cab Wheelchair transfer services MaxiCABooking SG offers provide convenience and comfort to passengers with disabilities. Our vehicles are equipped with ramps to make them wheelchair-friendly. and easily accessible. Even for a wheelchair-bound person to move in and out of the vehicle throughout the whole day out either for routine checkups or personal outings.
Professional Wheelchair Transport Service
Our drivers are professional and experienced in doing wheelchair transfers, thus assuring passenger's safety and comfort at all times. You'll also be pleased to know that the maxi cab could fit up to 9 additional passengers with ample space for the wheelchair-bound passenger.
Simply contact MaxiCABooking SG 24hrs hotline +65 6200 7759 and ask for a maxi cab with a wheelchair transfer service for us to send a maxi cab equip with ramp to you.
You would think that a maxicab service with all these extra features will mean spending a lot of money. But we assure you it is not. Apart from the standard maxi cab transfer rate, you are just required to top up an additional SGD10 to SGD15 only to book such vehicles. Depending on the number of passengers that would fit in the vehicle of your choice. You will be given a rate that is completely reasonable and inclusive ERP surcharge too.
Bicycle & Bulky Items Transfer
Maxi CAB Booking SG services are not just about city tours and bringing tourists around Singapore's popular attractions and locals to events with point-to-point transfers.
Our transportation services vary according to customer's needs such as wheelchair transfers, bicycle transfers, and even bulky items. You can also choose among services such as maxi cab hourly booking and maxi cab airport transfer. For bicycle transfers just inform us of the number of people traveling with several bikes and we'll send the right type of vehicle that fits comfortably. 
For Immediate Bookings, Simply call our Hotline +65 62007759
Call us to book a Maxi Cab or for more information in regards to our services. Our friendly operator will assist you 24×7.
For Booking by SMS or Whatapps to +65 9895 2595
Please provide the following details :

Pick up Time & Date

Pick up Address

Drop off Destination

Type of Service (One Way, Hourly, Wheelchair, Bulky Items)

Number of Passenger

Number of Bags
Our range of fleet includes
Available services
1 or 2-way transfers – Available for trips to Singapore attractions, company events, weddings

Airport transfers– Available for both departure and arrival. Our arrival service comes with the basic pick up and also the premier Meet and Greet service which is strongly recommended for first-time travelers and corporate clients.

Hourly charter – Our value for money packages which is ideal for tourist to explore the Lion City, weddings and for corporate clients transportation to company meetings. The package is also recommended for trips that require multiple extra stops and waiting times.
Other Maxi Cab Services
Wheelchair Transfer – MaxiCABooking SG offers safe and comfortable transportation for our less disabled customers with our Maxi Cab wheelchair transfer services. We provide both 7 seater maxi cab and 9 seater minibus wheelchair service that is specially catered to clients with physical disabilities

Bulky Items Transfer – It would be a complicated task to complete to move bulky and large items from one location example Ikea, to another location or home. Which is the reason why MaxiCABooking SG provides bulky items transport services to our valued customers.